Si l'année dernière REaction avait eu un grand succès avec la thématique Smart Cities, cette année nous avons été complètement débordés par les inscriptions : depuis une semaine nous n'acceptons plus d'inscriptions pour REaction 1401 et pour l'instant nous avons dû mettre des participants sur une liste d'attente.
Dans tout les cas, vous êtes invités le jeudi 13 mars à 19h pour la conference ouverte et gratuite qui ouvrira le workshop. Robert Garita de FabLab Barcelona, un des partenaires de Superbelleville pour les workshop REaction 1401 / 1402,   nous exposera son point de vue sur la fabrication numérique et sera prêt à répondre à vos questions.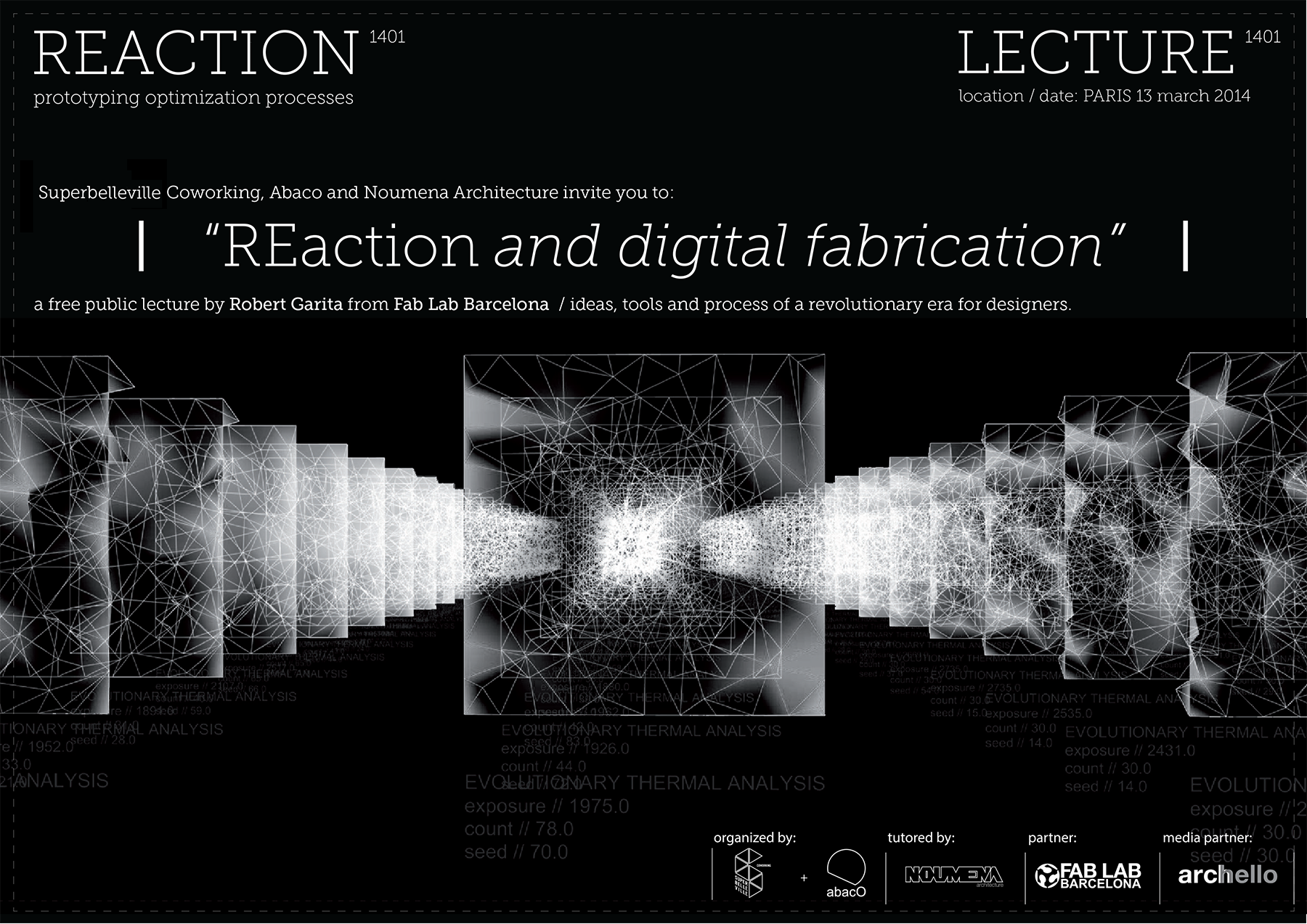 On Thursday 13th of March, the day before the workshop, you are invited to "REaction and digital fabrication", a free public lecture by Robert Garita from Fab Lab Barcelona: ideas, tools and process of a revolutionary era for designers.
Design paramétrique
REaction 1401 / 1402 est une série de workshops avancés sur le design paramétrique, les processus d'optimisation génétiques et la fabrication numérique organisée par Superbelleville en collaboration avec Noumena Architecture, Abaco et en partenariat avec Archello et Fab Lab Barcelona. Pour plus de détails : superbelleville.org/reaction2014
Les workshop sont basés principalement sur Grasshopper, un plug-in de programmation visuelle pour Rhinoceros permettant d'approcher la conception architecturale de manière paramétrique. Pour les moins experimentés, nous organisons également DATA TREE, un workshop d'initiation à l'architecture paramétrique. Pour plus de détails architectureparametrique.com/data-trees-workshop-darchitecture-parametrique
Inscriptions
La participation à la conférence est gratuite mais l'inscription est obligatoire via le formulaire ci-dessous.
La conférence aura lieu en anglais.