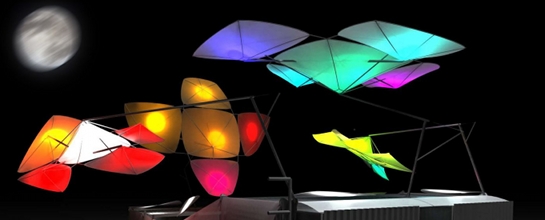 Hace unos dias, hablando con Sara < @trecedejunio > que esta preparando el concurso CITY-SENSE: Shaping our environment with real-time data- The 4th Advanced Architecture Contest me he puesto a reflexionar sobre el hecho que nunca, o casi, he ganado un concurso de arquitectura o de diseño. Me apetece intentar hacer una lista, que claramente se quedará incompleta, de los concursos de arquitectura en que he participado sin ganar (me gustaría mas decir "los concursos que he perdido" pero parece ser que no suena bien). Aqui va la lista.
Concurso de arquitectura que he perdido:
EXPRESATE . monumento a la libertad de expresión .
colaboración con Pierluigi Bucci y Domenico Di Siena
CITTÀ PI-ADICA . propuesta para EUROPAN 9 .
colaboración con Marco Riccobelli, Sante Consiglio, Concetta Sangrigoli
THE SKIN OF THE MOON . imagen arriba: propuesta de INFOPOINT para Plaza Castillo en Turín.
colaboración con Marco Riccobelli, Gaetan Kohler, Domenico Di Siena
BAT 2.0 . refugio para murciélagos . CTRLZ Architectures
LONDON . BREATH . S . galeria flotante en Londres . CTRLZ Architectures
FOR ALL THE COWS . sistema integrado de producción agricola y viviendas . CTRLZ Architectures
b/LED . lampara de mesa modulable  . colaboración con Jacques Famery
LUCCIOLA . instalación de paysage . CTRLZ Architectures
SENTIR VERT . propuesta sensorial para el festival Architecture Vive . CTRLZ Architectures
Seguro que hay mas, pero bueno tampoco son muchos. Para eso es bueno, a veces, apuntar cosas.
Y ademàs he ganado algo parecido a un concurso, para conseguir una publicación en el libro bracket n.1, en el cual está incluido el proyecto aGER-aGRI que he echo con Massimo (juntos formamos el colectivo CTRLZ Architectures). También hay que especificar que en ese concurso solo he escrito el texto (ayudado por @ethel_baraona). La cosa curiosa con CTRLZ Architectures es que, sin ganar ningún concurso o casi, hemos tenido más publicaciones que muchos estudios de arquitectura que construye: ¿arquitectura espectáculo en papel?  o simple interes para la especulación y la utopia? utopia forever?
Quedan excluidos de esta lista todo aquellos concursos en que he estado involucrado en estos años (y son muchos) en los cuales he colaborado pero sin ser al celebro principal. Me refiero sobre todo a colaboraciones con estudios de arquitecturas, y ahí sí que algunos he ganado, en particular Pylons of the Future – Dancing with Nature – con HDA | Hugh Dutton Associés y ONETHOUSANDSQUARE, relacionado con el proyecto dreamhamar que estoy desarrollando ahora en Ecosistema Urbano.
El otro dia, hablando con Sara – y ella sí que gana concursos, podeis echar un vistazo a su blog – me ha llamado la atención que, si por un lado estoy muy contento con mi actividad profesional, por otro nunca o casi he ganado un concurso.
Hace unos años, ganar un concurso me parecia condición imprescindible para poder estar contento con lo que hago.
¿Entonces que ha pasado?
¿Ha cambiado el mundo de la arquitectura, he cambiado yo, o simplemente el punto es que ya no soy arquitecto?