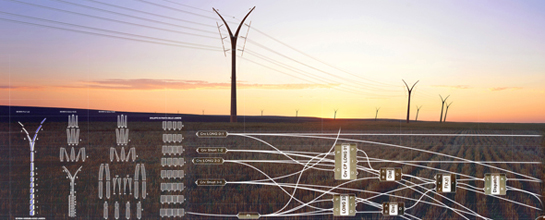 Ejemplo de trabajo con Grasshopper
Pylons of the Future – Dancing with Nature _ HDA | Hugh Dutton Associés
Full size image at flickr.com/hdaparis 
_ 
Llevo mucho tiempo sin publicar algo en español, desde el muy comentado post ARCHITECTURE IS NOT 2.0 que animó un debate muy interesante y que, como siempre en estos casos, me ha permitido conocer gente con la cual despues he empezado a trabajar.
Esta mañana llegando al estudio he pensado que, puesto que llevo un año viviendo a Madrid "next to Parque del retiro", quizas podría escribir un poco más en español. Así que voy a compartir con vosotros un articulo que he originariamente escrito para el blog ecosistemaurbano.org en el cual explico que es la arquitectura parametrica y porque me intereso en ella.
Si este tema os interesa, podéis seguir mi trabajo de investigación en complexitys.com, el blog del estudio parisino HDA | Hugh Dutton Associés para quien trabajo como consultor de estrategia, comunicación y arquitectura paramétrica.
Continue reading Arquitectura Parametrica, Participación y Cultura Libre