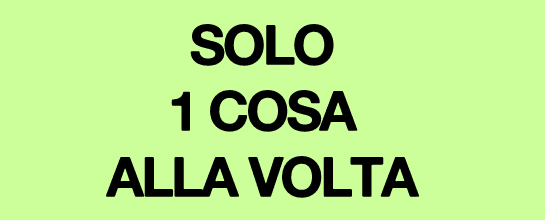 Qualche mese fa, mio padre descriveva in un tweet la sua interpretazione del minimalismo, definendolo come una tendenza contemporanea a uno stile di vita fatto di poche e semplici cose e in opposizione al modello capitalista e consumista. Ero sorpreso: per me, architetto, il minimalismo era uno stile, o al massimo una corrente artistica.
Oggi, grazie a Luca Conti, ho scoperto che mio padre aveva ragione. L'ho capito stamattina scoprendo il blog theminimalists.com, un progetto di Joshua & Ryan che si presentano così:
Our Vision is to see more people live meaningful, happy, passionate, free lives.
E' stata una bellissima scoperta, che fra l'altro mi ha aperto a tutto un filone sul minimalismo (consiglio anche il blog zenhabits.net) di cui non ero a conoscenza.
Bene.
Tutto questo per dire che il prossimo mese di settembre mi uniro' all'esperimento Clear Your Damn Plate, che Joshua spiega così:
I'm trying a new experiment next month. I'm going to clear my damn plate—a phrase my mother used to use with vigor—and focus on one thing at a time (viz. place one thing on my empty plate at a time).

There is little-to-no physical clutter in my life, but I still get stressed out sometimes; I get stressed out by self-imposed deadlines, by other people's expectations, by my own standards of supposed accomplishment, by constant interruptions that I can control.
I am in control, just as you are in control. We must remember that.
This is my life, I am in charge, and I have the freedom to do what I want.
So next month I'm going to clear my plate, and I'm going to do only one thing at a time. All the time. I'm not going to take my computer with me when I want to read a book or exercise or visit a friend. I'm not going to check my phone when I'm eating a meal with someone. I'm not going to brush my teeth while I browse through email.
I'm going to be in the moment. If I'm on Twitter, then I'll give my full attention to Twitter, not the other way around. If I'm reading a book, I'll read a book. If I'mwriting, I will write. If I'm interacting with you, I'll interact with you, uninterrupted.
Allo stesso modo, per tutto il mese di settembre 2011, mi impegnerò a fare una sola cosa alla volta: se sono a cena, da solo o insieme a qualcuno, non controllerò il telefono né userò il computer. Se sto aiutando Valentina a cercare lavoro, non starò allo stesso tempo leggendo un blog o scrivendo un SMS. Se mi sto lavando i denti, non camminerò per casa. Se sto cucinando, non parlerò al telefono e se sto lavorando, non ascolterò musica ne userò la chat per parlare con un amico.
Prevedo che sará molto dura, ma sicuramente eccitante e benefico.
A inizio ottobre prometto di pubblicare qui un resoconto dell'esperieza.
Grazie Joshua & Ryan e grazie Luca per avermeli fatti scoprire.