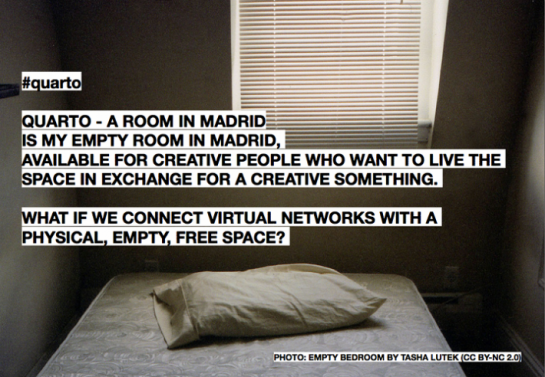 QUARTO is an empty room in Madrid, available for creative people who want to live the space in exchange for a creative something.
A creative leaves his room.
Another creative can stay there.
In QUARTO, in Madrid, freely.
When he leaves QUARTO, he delivers his creation.
The creation is published at immaginoteca.com/quarto.
This is about networks, networks and networks around us.
What if we connect virtual networks with a physical, empty, free space?
QUARTO is now in its beta phase and it's open by invitation only.
But please, leave a comment if you are interested in staying in it: we'd love to hear from you.
QUARTO : a room in Madrid
immaginoteca.com/quarto
A project by Francesco Cingolani and networks around him.
In collaboration with Alfonso Sanchez Uzábal, Domenico Di Siena and ALGOMAS ARTE RIVOLUZIONARIO
QUARTO is also part of LAGUNA, an experimental approach to open network housing.
Photo above: Room afternoon by Enid Yu on Flickr | license CC BY  2.0

More at immaginoteca.com/quarto